WELCOME TO DOUG GOBEY TRANSPORT
Doug Gobey Transport Ltd is a Gloucestershire based
company which has been trading for over 20 years.
'Doug Gobey – Dedicated to Delivering Your Goods' 
For over 20 years the unmissable lime green lorries have been a staple of the Gloucestershire transport industry. Providing crane vehicles, road haulage and warehousing, Doug Gobey are proud to supply a range of services to meet your requirements from minor moves to mountainous operations.
Our founder Doug Gobey, started life in the realms of haulage in 1990. His agricultural background saw him move hay and straw from location to location, and delivering apples to cider mills ready for production. After almost a decade of perfecting his craft and thriving on assisting clients and customers, it was time to expand. In 1999 Doug adopted the distinctive green brand and built up his army of adventurous by employing 14 drivers. 
Tail lift vehicle of all sizes
UK and Ireland deliveries
Not just dedicated to haulage, Doug Gobey offers the whole package. From start to finish, we have warehousing facilities including pallet racking and general storage which has the capacity for any shape and size of goods. Then we'll deliver your stored goods to the location of your choice at a time that suits you best. Tailoring each and every project to your personal needs.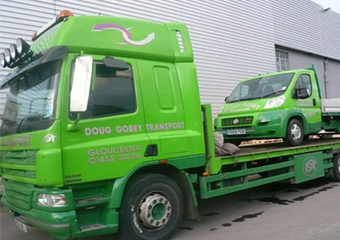 Our unmissable lime green lorries are seen all across the UK and Ireland, providing a solution for transporting items of all shapes, sizes and quantities.
Located in Gloucestershire, our range of seven road haulage vehicles vary in weight and capacity to offer our customers and clients the best solutions possible.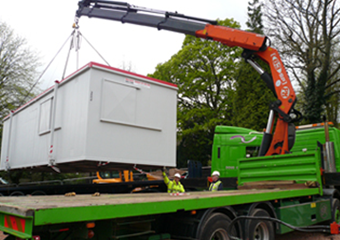 From day-to-day haulage to the storage of goods and specialist projects, Doug Gobey Transport Ltd can take on any challenge no matter how big or small.
When standard man power isn't up to the job it's time to bring in the experts. Our crane vehicles are the perfect solution.
At Doug Gobey we pride ourselves on delivering the whole package from start to finish.
Whether you're looking for a short-term storage solution or the option to hold your goods in a safe location before dispatching them to their final destination, we have a variety of packages on offer. 
Our portfolio of vehicles range from crane vehicles, to vans featuring tail lifts and also super-sized lorries to handle any move. We also offer a full and part load service of flat and curtain-side vehicles in a variety of sizes. Not just allocated to Gloucestershire deliveries, we carry out journeys all across the UK and into Ireland as well. Each vehicle is maintained to a high standard and our drivers have an ADR license – European Agreement concerning the International Carriage of Dangerous Goods by Road – taking on any challenge and ensuring that your goods arrive safe and sound. Plus we provide services for waste carriers, construction and shop-fitting industries too. 
The illuminous lime green lorries is a fond favourite with avid transport fans and photographers and certainly catches the eye at events such as Truckfest. Our logo stands out proud, just as much as our high-quality service. 
Now, Doug Gobey runs almost 20 vehicles from its Cheltenham hub and is pleased to collaborate with a number of local businesses including their largest customer Edenhall Greenhouses. With green as a running theme throughout, we also provide a service to recycling agencies too.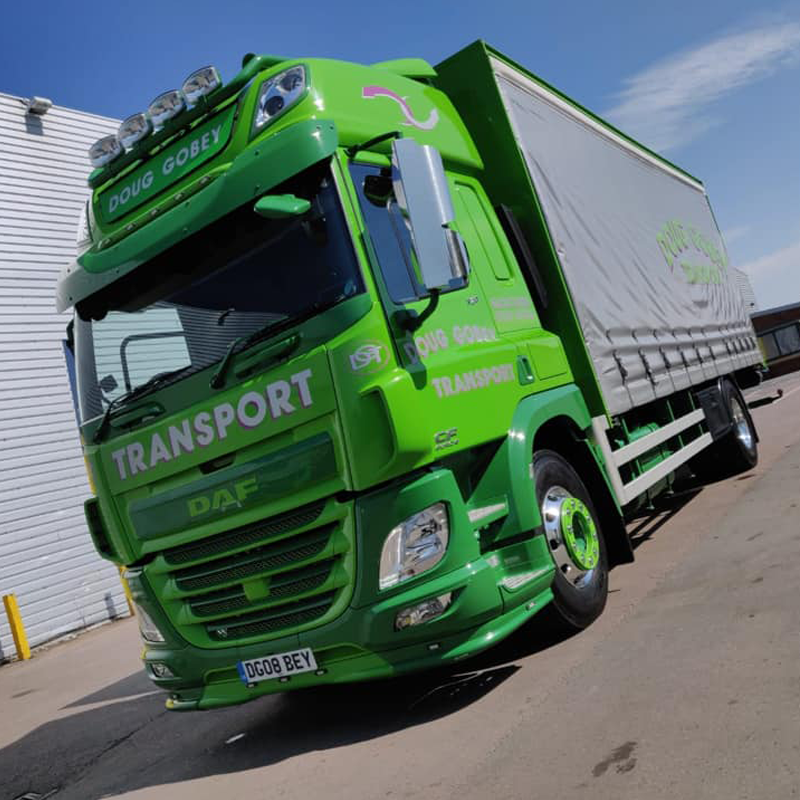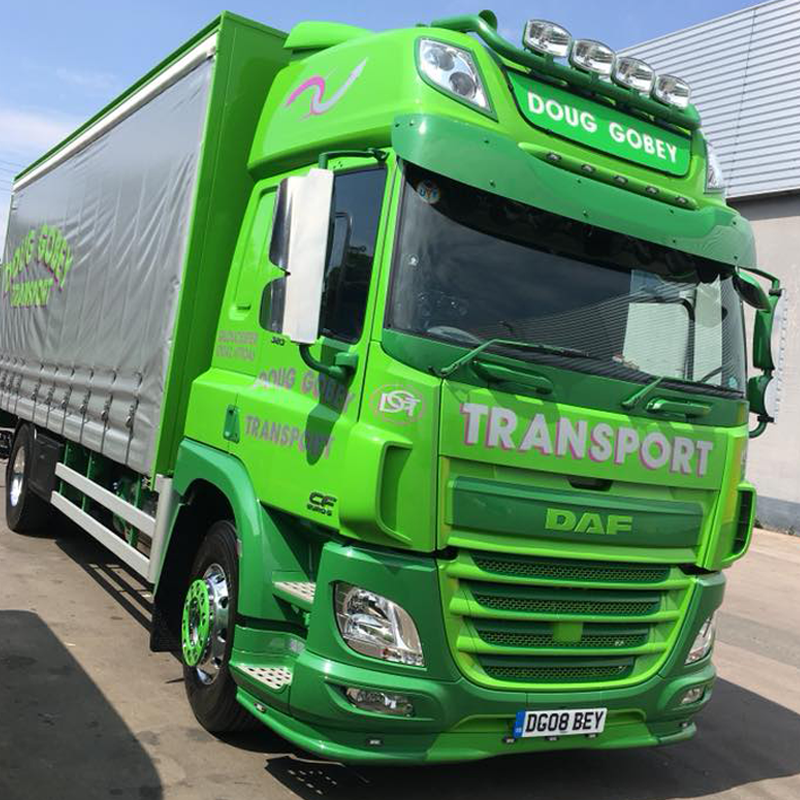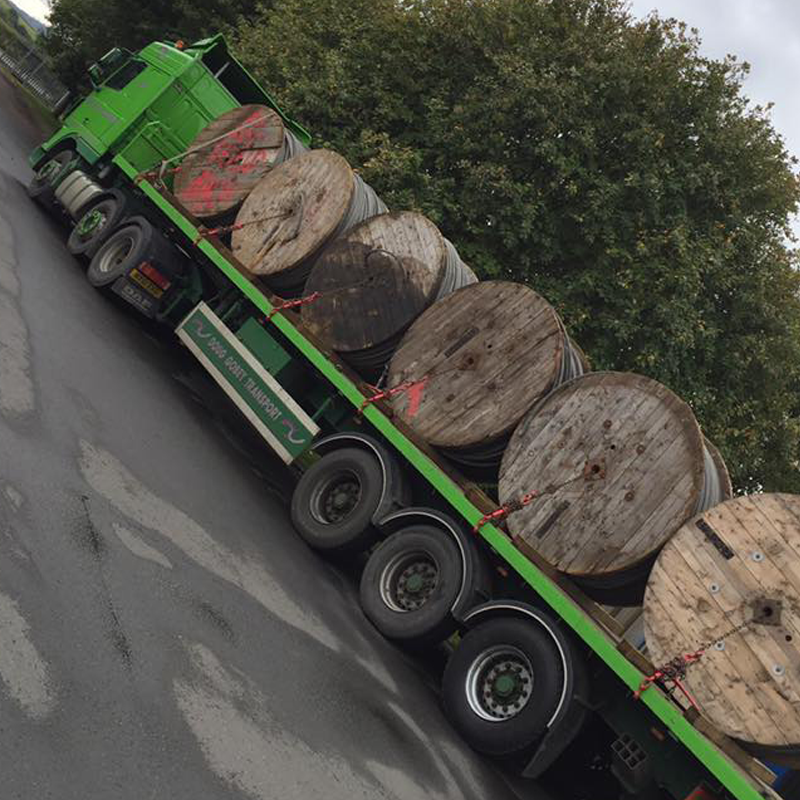 We aim to never fail to deliver. As members of the Road Haulage Association (RHA) we pride ourselves on a high-quality professional service that is on time. Safety is paramount to road transport and the haulage industry, that's why each vehicle is maintained and serviced regularly in our Cheltenham base to ensure its efficiency. This includes roping and sheeting too during the transport of goods.
Our wide range of vehicles is suitable for a whole host of road haulage including services for waste carriers, construction and shop-fitting industries as well. To provide the whole package, Doug Gobey also offer storage facilities in our secure warehouse. This is the perfect option if you're looking for a base to contain your goods before dispatching the items onto their next destination.
Doug Gobey is well respected in the transport industry and our transport managers and team members are always on hand to discuss your haulage solution no matter how big or small.
Find Us
Unit 1A, The Distribution Centre,
Stoke Road, Stoke Orchard,
Cheltenham GL52 7RS
Open Hours
Mon-Fri: 7am - 5pm
Saturday: 7am - 1pm
Sunday: Closed